Timeless Ideas for Halloween Nails this 2023
Halloween Nails
As the air turns crisp and the leaves transform into an array of warm hues, it can only mean one thing – Halloween is just around the corner! While you're busy planning your costume and decorating your haunted abode, don't forget to channel the spirit of the season right down to your fingertips. Halloween nails are the perfect canvas to showcase your creativity and pay homage to all things spooky and magical. In this blog post, we'll dive into the enchanting world of Halloween nail art, offering you a spellbinding collection of ideas to rock this festive season.
Classic Halloween Icons
Embrace the timeless Halloween symbols with your nail art. From wicked witches to eerie pumpkins and haunted houses, these iconic images can be delicately painted onto your nails for a touch of nostalgia and charm. Incorporate shades of deep orange, jet black, and ghostly white to truly capture the essence of the holiday.
Ghoulish Gradient
Create an eerie ombre effect on your nails by blending shades of black, purple, and deep blue. Top off your gradient with eerie accents like bats, moons, and stars to evoke a mystical, nocturnal ambiance. The subtle transition from one shade to another adds an element of sophistication to your spooky style.
Candy Corn Delight
Embrace the sugary delight of candy corn with a nail design that mimics its tri-colored pattern. Opt for a diagonal color-blocking technique using white, orange, and yellow nail polish. This playful and vibrant design adds a touch of whimsy to your Halloween ensemble.
Witchy Elegance
For those who prefer a more understated yet witchy vibe, consider a matte black base adorned with delicate golden crescent moons, stars, and pentagrams. This design exudes sophistication while still capturing the mystique of Halloween night.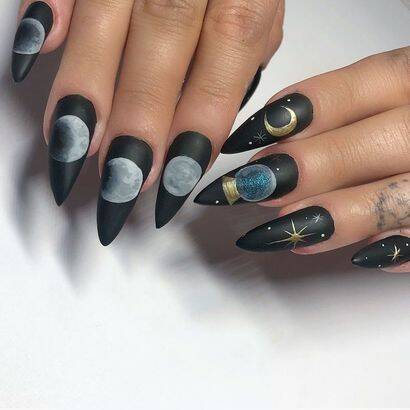 Jack-O'-Lantern Cuties
If you're a fan of adorable nail art, why not paint tiny jack-o'-lanterns on your nails? These grinning gourds will bring a smile to your face every time you glance at your hands. Experiment with various facial expressions and sizes to create a captivating look.
Spiderweb Chic
For an elegant yet spooky touch, opt for a subtle nude or black base with delicate spiderweb designs on a few accent nails. This intricate design is perfect for those seeking a balance between Halloween spirit and everyday wearability.
Whether you're going all out with elaborate Halloween-themed nail art or opting for something more understated, there's a design for every style and preference. Halloween nails are a creative outlet that lets you celebrate the holiday in a fun and fashionable way. So, unleash your inner artist, grab your nail polish collection, and get ready to cast a spell with your spooktacular nail designs this Halloween!